SISTERS OF SWING: the Story of the Andrews Sisters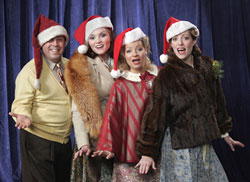 They sold over 90 million records, nine of them gold. They had more Top Ten hits than the Beatles or Elvis. And they are still one of the best-selling female vocal groups of all time. Audiences understand why when they see Sisters of Swing: The Story of the Andrews Sisters.
This book musical follows sisters LaVerne, Maxene and Patty Andrews from their early days on the road through their rise as recording stars to entertaining American GIís overseas to dissembling over differences. The score intermingles over twenty hit songs like "Bei Mir Bist Du Schon," "Don't Sit Under the Apple Tree" and "Boogie Woogie Bugle Boy." This show goes beyond the ordinary to offer a unique perspective into these women as human beings, showing how the events of their lives shaped who they became to the rest of the world.
In its short interim, Sisters of Swing has charmed and sold-out to audiences in Minnesota, Wisconsin, New York, Florida, Texas, Georgia, Oregon, Indiana, Pennsylvania, and North Carolina.
Sisters of Swing: The Story of the Andrews Sisters
Written by Beth Gilleland and Bob Beverage
Musical Arrangements by Raymond Berg